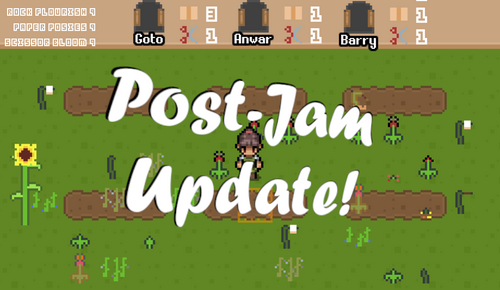 Hello all.
Now the game jam is over, and no matter if I'm in the top 10 or not, this has definitely been my most successful game ever. I'm so happy that so many people have seen my strange, cute game. I've also had the incredible opportunity to have some people play the game on their streams so I could see the game running, which is awesome and gave me a lot of feedback.
I would like to extend this idea into an actual game, maybe about an hour long adventure where Yolanda gets a job at the florist and must help make it successful enough in a week to prevent it from shutting down. I've got half an idea for a story and I do think I can make it work, so that's what I would like to do.
For now, I've used the feedback I got from users to improve this jam version. For starters, the screen resolution is sorted (Don't forget to set your window settings, kids!) and I've also added a timer on the left so you can easily see how much time you have left. I've also added a timer on the left so you can see how much time you have left. Also, now walking into plants doesn't block you, but it does slow you down, and I've also edited two of the plants to make it easier to tell which plant is which during all stages (I particularly like how the Paper Posy came out!)
If you've read this, thank you for reading and thank you for playing! I'm really proud of how well my game has done this year.
- Clovers
Files
Flourish PostJam.zip
Play in browser
Jul 19, 2020